Restaurang ART- artful vegetarian food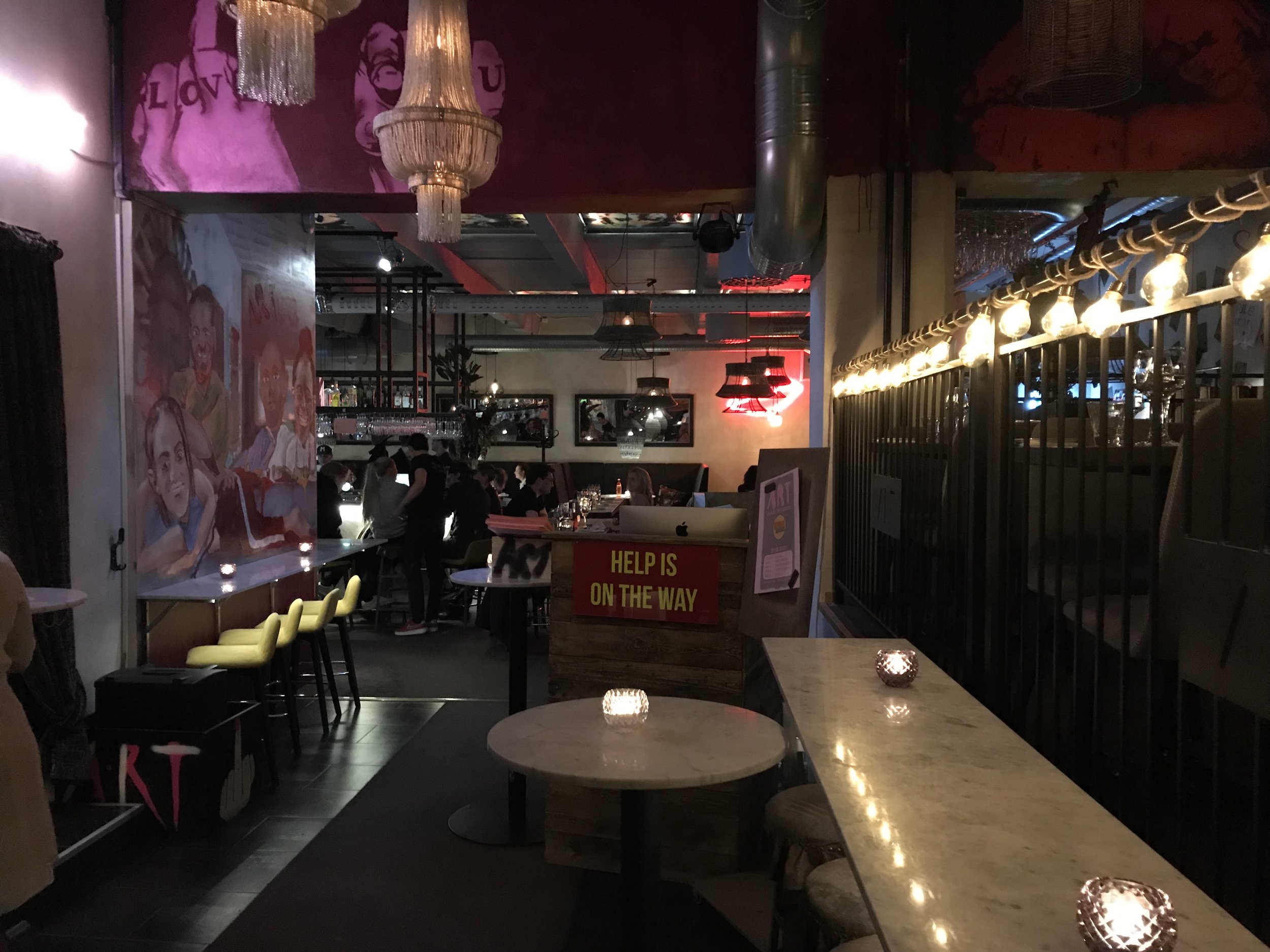 Restaurant ART in Stockholm might be hard to spot but when you have found the right entrance you won't forget this place. ART offers playful dining dishes with creative flavour combinations in an industrial & modern setting with cool New York vibes. Their great selection of vegetarian dishes are impressive & most of all tasty & very well composed.
THE FOOD
Playful creativity permeates the menu at restaurang ART in Stockholm which is changed regularly about eight times a year. The kitchen is led by Head chef Ken Mannerström and together with his team of chefs they create wonderful flavour combinations.

At restautant ART you are recommended to order 3-5 dishes or tasting menu that reaches the table in the order they are prepared in. The dishes complement each other very well and are named after the main ingredient in the dish, such as sweet potato or celeriac. Our favorite dishes on the menu are the roasted cabbage- so delicate in texture and served with a rich and umami intense cream sauce with miso, soya and brunt butter. Compared with the fresh and perfectly cooked Turnip cabbage with a luscious pesto like green herb cream in a nice symmetry with the smoked ricotta. We also enjoyed the simplicity of the buffalo mozzarella dish accompanied by the daring mango.

Besides the well composed menu with great vegetarian dishes that also can be turned into vegan, ART is a place you can visit for all kinds of occasions; order a cocktail at the bar, grab just one or two dishes or sit down like we did and enjoy a full evening of interesting flavours & textures.

DISHES WE ORDERED
Roasted cabbage- miso cream, sesame & soya burnt butter (lacto-ovo vegetarian if the roe is excluded) 125 SEK

Buffalo mozarella- mango, endive & cucumber ( (lacto-ovo vegetarian) 95 SEK

Celeriac- hazel nuts, tomato, parmesan & truffle (lacto-ovo vegetarian) 135 SEK

Turnip cabbage- green herb cream, pine nuts, dried capers & smoked ricotta (lacto-ovo vegetarian) 115 SEK

Asparagus- baked egg yolk, black garlic cream, deep-fried onion & avocado (lacto-ovo vegetarian) 125 SEK

Fried seasoned mushroom- hummus, lemon, lovage & pumpkin seeds (vegan) 125 SEK

Sweet potato- lemon emulsion, raw pickled broccoli, piementos & parmesan (lacto-ovo vegetarian) 95 SEK

Roasted seasoned carrot- artchoke, puy lentils, & ramson (vegan if lardo is excluded) 115 SEK

Banana cake- coconut gel, banana ice cream & raspberry merengues (lacto-ovo vegetarian) 95 SEK
ATHMOSPHERE
Cool underground restautant & bar situated behind a anonymous grafitti painted door in Vasastan. Spacious restaurant with an impressive bar in the middle and pop art on the walls. Typical industrial style with dimmed lightening. Every type of guest will fit at ART; colleges going out for an afterwork, the romantic couple to families with small children.

SERVICE
Well mannered and relaxed waiters who delivered excellent service by genuinly paying attention to us and being keen on making us understand the menu correctly. Good speed of service with dishes arriving in a good pace.
ADDITIONAL INFO:
Location:
Döbelnsgatan 45, Vasastan
Opening hours:
Mon- Sat: 18.00- until late, 17.00 on Fridays.
Phone: +468 599 996 46
Website: click here

Menu: click here
*The dishes that are gluten free or lactose free are marked.
Price range:
Medium, 95-135:- for one small dish
Type of cuisine:
Smaller dishes inspired from all around the world.

Vegetarian & Vegan friendly: Vegetarian and vegan friendly. 6 our of 13 savory dishes are lacto-ovo vegetarian on the menu and two more can be turned vegetarian if the meat is excluded. Of those 8 dishes and all of them can be turned into vegan.